Our Piano & Voice Instructors
Click on the name to learn more about that instructor.
ANGELA ROATH - Piano
Angela graduated from Mid America Nazarene College in 1995 with a Music Education/Church Music degree. She taught elementary music for 3 years in the Kansas City, KS & Leavenworth School Districts. She plays the clarinet, piano and violin.
MICAELA BARBER - Piano
LINDSEY KNOX - Piano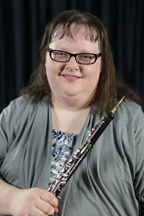 Miss Knox has been teaching private oboe and piano lessons since 2003. She is currently working on completing a Doctorate of Musical Arts degree in oboe performance at The University of Kansas where she has been teaching oboe lessons, reed making classes, chamber music and piano lab for music theory 1. She is also active in the community playing with local churches, universities, schools and orchestras in both the KC and Lawrence, KS areas.
Click here to meet our other instructors.